Welcome to Hague Publishing's July 2014 newsletter.
Since January we have released our fifth eBook and our second paperback, and with less than five months till Christmas have another three eBooks slated for release. And looking to the future, 2015 promises to be even busier.
In this edition
New Releases

eBooks

Lights Over Emerald Creek by Shelley Davidow
Early praise for Isis, Vampires and Ghosts - Oh my! by Janis Hill
(available 30 August) Pre-Order Now

Paperback

Frontier Incursion by Leonie Rogers

Forthcoming releases for 2014

eBook

Frontier Resistance by Leonie Rogers - available 3 October
Across the Bridge of Ice by Ruth Fox

New Signings

Cold Faith by Shaune Lafferty Webb
Foxing the Fandango by Lesley Truffle
ON by Jon Puckridge

Social Media
Remember; to be kept informed follow us on:
---
New Releases - eBooks
Lights Over Emerald Creek by Shelley Davidow
About the Book
Lucy Wright, sixteen and a paraplegic after a recent car accident that took her mother's life, lives in Queensland on a 10,000 acre farm with her father. When Lucy investigates strange lights over the creek at the bottom of the property, she discovers a mystery that links the lights to the science of cymatics and Scotland's ancient Rosslyn Chapel.
But beyond the chapel is an even larger mystery. One that links the music the chapel contains to Norway's mysterious Hessdalen lights, and beyond that to Saturn and to the stars. Lucy's discoveries catapult her into a parallel universe connected to our own by means of resonance and sound, where a newly emerging world trembles on the edge of disaster. As realities divide, her mission in this new world is revealed and she finds herself part of a love story that will span the galaxy.
Reviews
The 'San Francisco Book Review' gave it 4.5 out of 5 stars and said ...
"I couldn't put this book down, and I can hardly wait to see where the author will take us next. This is a great new YA novel with an intriguing premise you won't want to miss!"
"What a delightful discovery this book has been! Following Lucy's journey through self-pity, self-discovery, and the beginnings of self-realization has been an inspiration to me. I liked that much of the mystery in the author's world is linked to some of the mysteries in our own world. It blurred the lines between fantasy, reality, and the realm of possibilities. I look forward to reading the next book in this series!" Melissa King, NetGalley
---
Isis, Vampires and Ghosts - Oh my! by Janis Hill
We're excited to announce the release of Janis's second book, and the first in her new Other World series. The book is presently available for pre-order for $4 from our website.
... good and fun, and entertaining
Novellum
Great book. Couldn't put it down. It has some great twists and turns.
A Creative Mind
A fast-paced, exciting and entertaining story for all fans of paranormal/fantasy books.
Reading 2011 (and Beyond)
Too late to save her sister's life, Stephanie Anders must now try to save her soul from the vampire who has possessed her, Branwyre, eighteenth vampire Lord of the Aegean. With only the aid of the ghost of a pissed-off Buddhist monk with a potty mouth and the modern day Priestess of Isis, Stephanie must take on demons and other denizens of a world she knows nothing about if she is to succeed in banishing Branwyre. But even more difficult than that, she must learn how to forgive her sister Estella for what she did to her if she is to have even half a chance of saving her soul. Welcome to a world within our own - the Other World.
Janis has already had her first blog interview and we'll keep you up todate with the planned blog tour as it occurs via facebook and google+.
In the meantime you can read more about the background to Stephanie's world on a blog Janis wrote entitled - Welcome to my world and what lies within.
Pre-order Now $4 - Read Sample
---
New Releases - POD paperback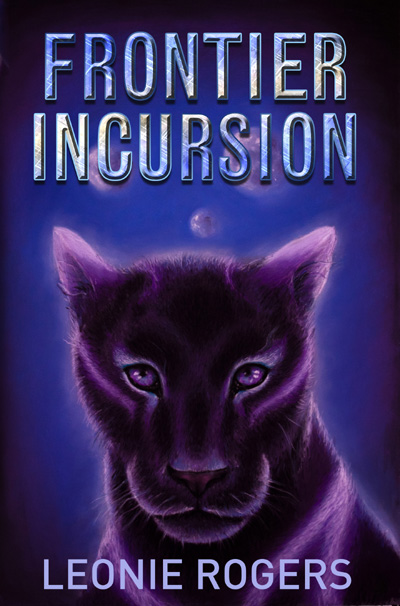 Frontier Incursion by Leonie Rogers
The release of our second print on demand has been Leonie Roger's Frontier Incursion. The cover's title has been given a revamp by Scarlett Rugers to further enhance the original gorgeous artwork by Emma Llewelyn.
About the Book
For Shanna, joining the Scout Corps had been a dream come true. The Scouts were charged with expanding their knowledge of Frontier, a hostile planet their ancestors had crashlanded on 300 years before. As the youngest in her class, Shanna struggles to find acceptance and respect amongst her older peers - a task made more difficult by the fact that she has not just one, but two of the colonists' huge feline companions, their starcats.
On a routine patrol, she and the other cadets are swept up in the greatest challenge yet to be faced by the settlers of Frontier. Now they find themselves on the very frontline of a war they knew nothing about, and possibly the Federation of Race's last chance against the hostile Garsal. Suddenly their world has changed, and in ways never dreamed of by Shanna and her fellow scouts.
Purchase now (free postage throughout Australia)
---
Forthcoming releases for 2014 - eBook
Frontier Resistance by Leonie Rogers
eBooks
The much awaited sequel to Frontier Incursion will be released 3 October. Once again the cover is by Emma Llewelyn with titles by Scarlett Rugers.
The Garsal have landed, the world has changed, and Shanna has gifts that might save everyone. With her starcats by her side and her friends around her, she must try to master her gifts and seek out the alien invaders before they enslave her world. On the plateau the Council under Tamazine (the Senior Councillor) allies with the Starlyne race, but Tamazine's distrust of the alliance creates a fatal weakness.
---
Across the Bridge of Ice by Ruth Fox
In 'The City of Silver Light', Keira Leichman spent the night lost in a wild snowstorm that struck Cassidy Heights. But what really happened that night? Not even Keira can be sure. What she does know is that she's been having strange dreams since the accident, and now she's stuck with a broken ankle and the possibility of never playing soccer again. That is, until she finds Jake's telescope, which calls her to the City of Silver Light.
We're in the final editing process at the moment and are working feverously to get it out before Christmas.
---
New Signings
Cold Faith by Shaune Lafferty Webb
Volcanic winter has decimated the Earth, leaving only isolated pockets of survivors. With food growing scarce and the air increasingly toxic, Rab sees only one chance for survival: a perilous journey north in search of the fabled city where ships are rumoured to be ferrying refugees to a salvation planet. But Rab didn't count on being coerced into taking along the last three children from his village.
Foxing the Fandango by Lesley Truffle
Sacha Torte is a world-famous Tasmanian patissier and acquitted murderess caught up in the savagery and madness of the First World War. When one of her lovers throws himself off the roof of her Tasmanian estate, she is forced to leave Australia and pursue a strange quest half-way across the globe, and beyond it to the very realms of Heaven and Hell. Aided, and hindered by the physical manifestations of the two ghosts of her former lovers - the Dasher brothers - Roger and Adam; Sacha is involved in seduction, mastication, lust, betrayal, murder, greed, gluttony and an indiscreet quantity of confectionary.
ON by Jon Puckridge
OneWorld, a planet orbited by thousands of satellite cities (SAT islands), and home to a civilization of 23 billion humans. A place where governments, police forces and law courts compete for business within a wholly privatised system. A place where: murder rape and torture are merely extra items on your insurance policy, a corporation owns the license for time, scientific fact has been replaced by 'consumer information', and history is traded on the stock exchange. Here; every product is wirelessly linked to the grID - a source of both data and geo-electric power, and humans spend most of their scheduled 'waketime' moving through various overlapping realities, via their grID visors.
But now the precarious balance of OneWorld is tipped when CoolGlobalGiant, the largest of the global corporations, launches the next phase of networking: One Network - or 'ON'.
---
Social Media
Follow us on:
Blog Talk
Regular weekly blog updates keep people informed about what is happening at Hague Publishing, and in the world at large (so long as it involves ebooks). Some recent topics covered have included:
First look at Ruth's new cover for 'Across the Bridge of Ice'
A chock-a-block future program means we have temporarily suspended submissions
'Frontier Incursion' nominated for the 2014 Barbara Jefferis Award
Round Four: the fight between Amazon and Hachette spills over and gets bitter
Do NetGalley's reviews provide a return on investment
Not one of our books, but one of our authors: Ruth Fox has a new children's book out
Our first book trailer: Janis Hill's 'Isis, Vampires and Ghosts - Oh My!'
---
And remember all of our ebooks are also available from the following in addition to our own online store (in alphabetical order):
If you have not already subscribed to our newsletter and wished to be kept informed of new release please subscribe here.